How To Do Boho
During the time that I've been posting my home on Instagram, one of the things that I have find most inspirational is the variance of categories into which homes fall with regard to decor. There's dark decor, bright decor, Scandi chic, eclectic, glam, vintage... I could go on, but I would be here for days. It's the combination of all of these on my feed that gives me the buzz and I've got huge amounts of respect for all of these different styles, each unique in their own way. That's what makes the Instagram interiors feed so brilliant and most of all, ever changing.
Personally, I've been through a few styles of decor. My first home with Joe was like walking into House Of Pine circa 1999. This was down to pure and utter laziness as we were both working long hours in London and home styling wasn't a priority (what was I thinking?!). As I started having kids and had more time to spend at home, I moved on to what I would term country house neutral painted vintage shabby chic style. Yes, this is a style. Totally made up by me. Basically, this involved ticking fabric roman blinds in sage green stripe, matching wooden kitchen in Cooking Apple Green, cream sofas, cream cushions, cream everything, ornate mirrors, painted furniture (the pine) and a Persian rug. I was SO onit.
Then Livingetc entered my life and everything changed. Not only did it open up a whole world full of non cream based interiors but it made me realise that it was perfectly okay to like things that nobody else did. You didn't have to stick to trends. It was perfectly okay to decorate your home in the way that suited you and if it wasn't to other people's taste, then SO WHAT? It was a revelation.
This revelation coincided with us moving to my dream Victorian house in Caversham where I proceeded to spend the next five years filling it with things that I loved, with no care as to whether or not others felt the same. Andrew Martin Penny Post wallpaper sat alongside drinks sideboards picked up for £20 on eBay and poufs from Morocco. Midcentury art (yes, okay some of was a little dodgy - there were only so many wide eyed crying children fishing in their pyjamas that my family could take) was positioned next to Anthony Burrell typography and maps of places that we'd visited. The most common remark made when people entered our house was, 'my Grandma used to have one of those'. It made me VERY happy.
Time flew by and four years ago we moved to York. After a couple of years in rental accommodation (not getting the paintbrush out was tantamount to torture) we sold the dream Victorian house and bought the dream Georgian house. For me, it opened up a whole new world of possibilities and space to really stamp my own personality.
It was at this point that I started posting on Instagram and discovered a whole new world of interior styles that weren't just in magazines, they were there, real time, on people's feeds. These homes weren't necessarily trend led, they were created and curated by people who loved their homes. Because let's face it, only people who really love their homes have the confidence to display their craft on Instagram. This is what makes it such a vibrant community.
Boho decor is one of these crafts. When I first discovered the boho styled feeds that were coming from the States, I was totally smitten. Like, absolutely totally smitten. So much colour, so much texture, so much individuality. These homes that were being Instagrammed were a hotbed of ideas. They were ever changing, transient spaces that for someone like me who is an obsessive room mover arounder, it was a match made in heaven.
So what makes a Bohemian home? It's a maximalist, pattern clashing, textured, unique, plant filled space. There's a million things to draw your eye, it's unstructured, non symmetrical, layered and just INTERESTING. A good definition of what Bohemian style means is summed up perfectly by The Spruce blog:
'Bohemian decorating is for those who want their homes full of life, culture and interesting items for all the world to see. It flies in the face of modern sensibilities and embraces the carefree, the relaxed and the unusual'.
So in the words of Beyonce, who runs the World on the boho stage? Girls, obvs. Well, mostly. This is who you should be following if you want to know how to do boho. Plus how they personally sum up their vibe in one simple sentence.
Jo is super cool. Based on the Gold Coast in Australia, she has the most amazing curated collection of stock in her online store, from kilims to poufs, from cushions to clothing. She's got it nailed. Jo takes layering to a new level and the colour combinations she uses in her posts never fail to make you stop in your Instagram tracks. She describes herself as a bohemian, curator, creator, visual poet and stylist and runs a hashtag that you can post to - #BohoIsMyJam - which she regularly regrams.
Jennifer was the first boho feed I came across when I started posting and it's full of inspiration. She runs an online store called Fleamarket Fab and has been pursuing her recycled glam style at flea markets, garage sales and thrift stores for over ten years. She describes her own style as relaxed, curated and one that doesn't follow the 'design rules'. LOVE that. Jennifer also has a hashtag on which she regrams - #HowIBoho - that you can post to. Plus, the treasures she finds on her Instagram stories are jaw dropping.
Liz is an amazingly creative, talented designer and stylist who has recently been renovating her 1982 Winnebago to travel the country. Together with her partner, her aim is to live a carefree life on the road, offering design consults along the way. She's transformed it into, quite frankly, the coolest Winnebago ever seen and it's well worth checking out. Her fabulous home is available to rent on Airbnb whilst she's away and you can follow her progress on Stories. Again, thrift and plant obsessive Liz has a hashtag - #ThisIsWhyIHaveToThriftShopEveryDay. Get posting.
Jen is one of my favourite ever Instagrammers and a great Instagram friend, who describes her style as eclectic boho glam. She has a zest for living out loud, including her interiors, and you can see this from her feed! Jen is hugely inspiring and constantly changing her environment - most recently she created a geometric plant shelf wall out of wood. Seriously. This girl is GOOD. And make sure you are following her by Christmas as only Jen can hang dreamcatchers from her tree and get away with it.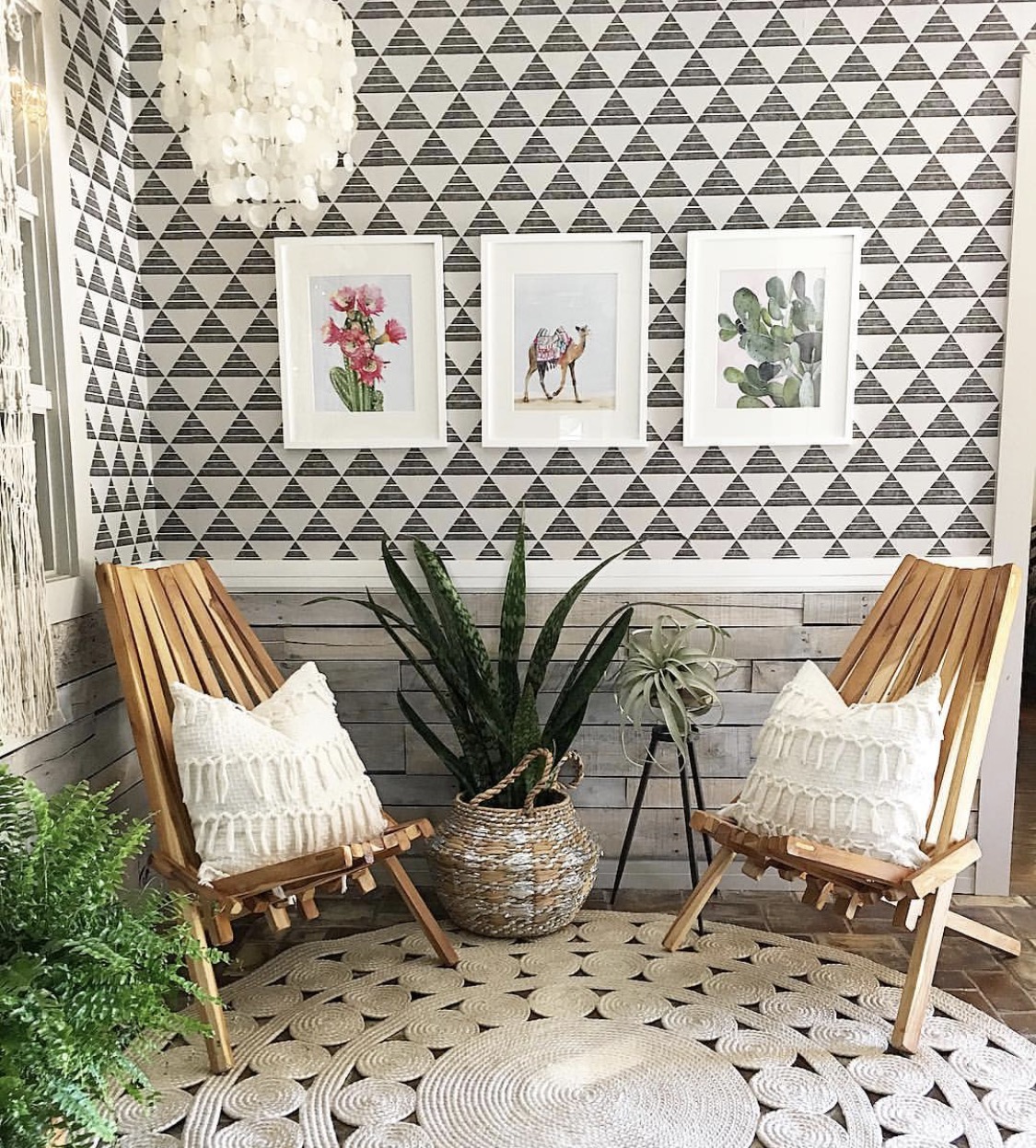 Kate describes her personal style as Scandi Boho. She's a successful interior stylist and multi award winning blogger. Based in Dorset, her home is unlike any other and is a calm, serene palate of textured, layered neutrals. She takes styling to another level and her beautiful photography makes her a must on your feed. Plus she's a bloody lovely person and gives VERY good blog, thus the reason that she's won so many awards. Serious respect.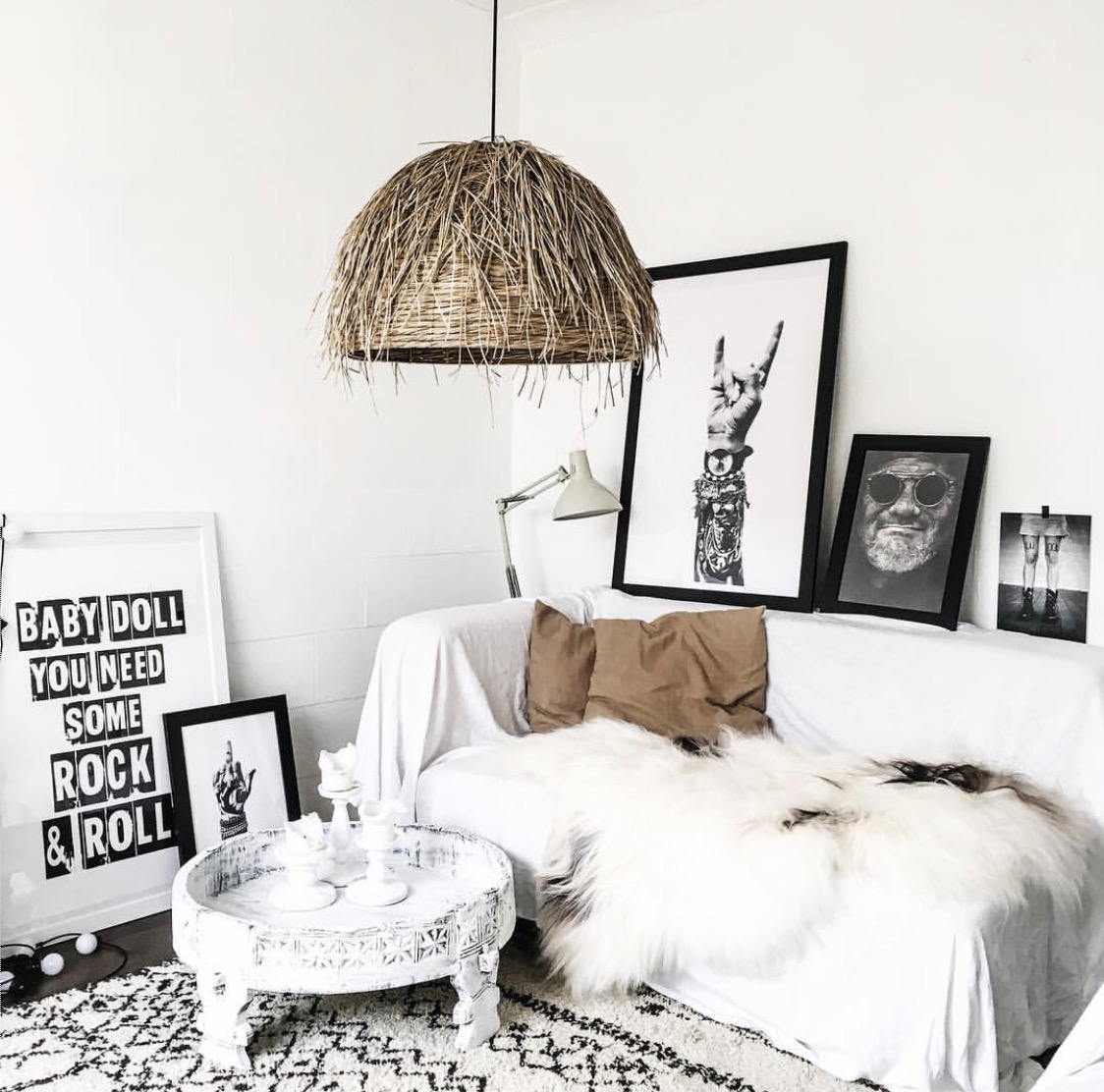 Kate is one of the first people I found on Instagram nearly 17 months ago and her home is constantly evolving. Kate takes dark boho to a new level and is constantly pushing decorating boundaries with her creativity - from a gold leafed plaster wall to a hand painted wall pattern, her home is inspirational. She also runs an online store, Cowboy Kate Outpost, where she sells the most beautiful sheepskins. She lives in a 408 year old home in Yorkshire with the most amazing garden you've ever seen.
Joey and Mark live with their cat, Bridget, in a Victorian home in Jersey, NJ. Their home is filled with fabulous and unique vintage pieces and is definitely swoon worthy. You can shop their feed directly here. On another note, their feed is a constant reminder to me that we don't have garage sales here in the UK. Their Stories and the gems that they find have actually been known to send me into a decline. They've got the longest running interiors hashtag on Instagram - #CurrentDesignSituation - which they regularly regram. Plus, how cute is Bridget?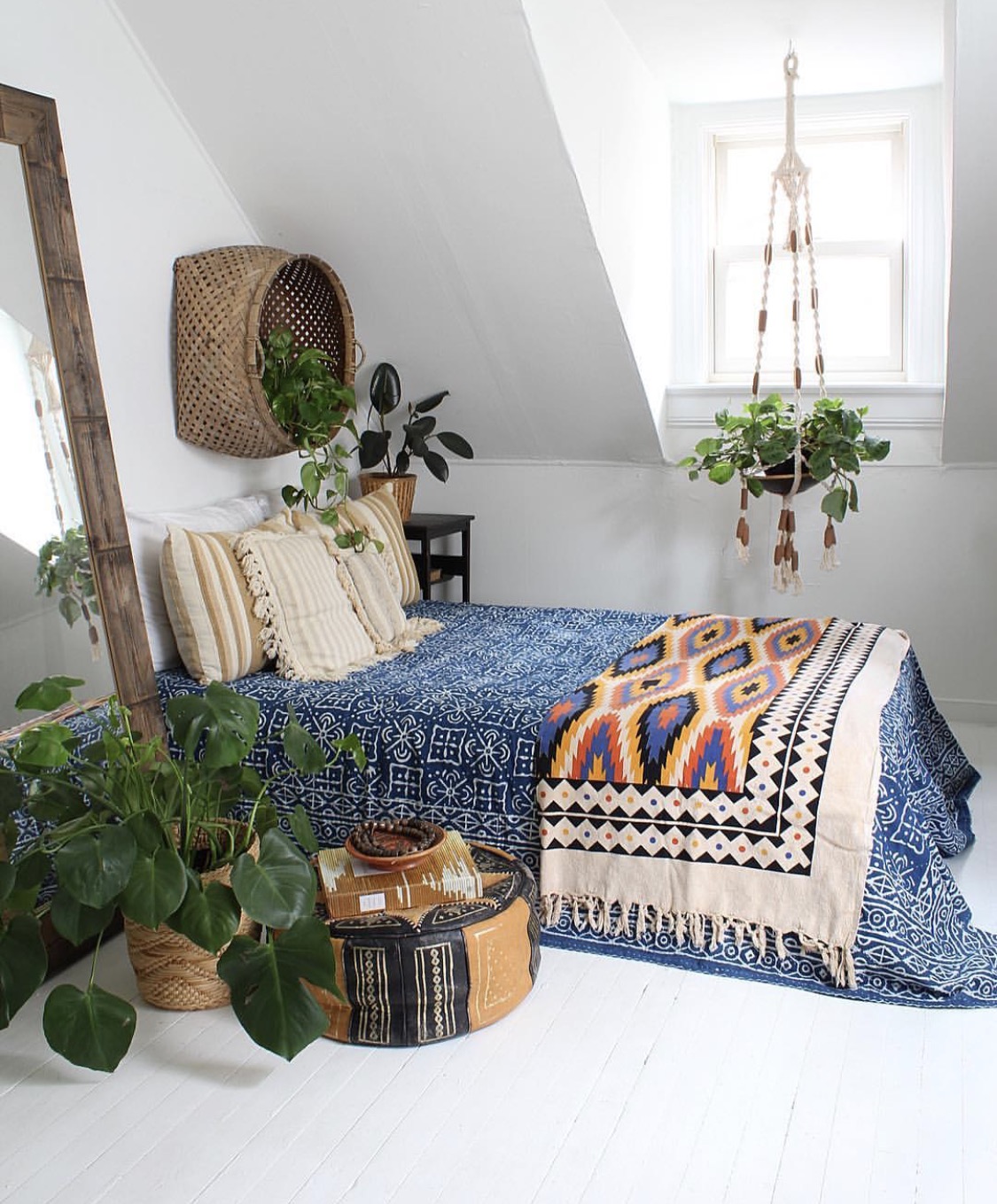 Get The Look
So how can you bring a little bit of the boho vibe into your own home? Aside from regularly trawling charity shops, eBay, Gumtree and car boot sales - essential (although much more productive if you live in the USA) - these beauties from Dar Beida Moroccan Living would be a fabulous quick fix.
So whether you want to just add a touch of boho to your space or fully embrace it, the experts above will show you the way to go. Boho decor is rooted in thrift, recycling and upcycling which has got to be good for the environment and for all of us. Their feeds sum up what interiors should all be about - individuality, creativity and having a home that you love. Everyone needs a little bit of boho in their life.